10 dreamful places where to sleep in Piedmont
Are you looking for a place where to spend one or two nights that will make you feel like it won't be easy to forget?
We draw up a list that can help you!
1) Castello di Sinio, Langhe&Roero (Cuneo)
"August 2015 TripAdvisor announced their Top 10 Castle Hotels in the World.  Castello di Sinio is proud to come in at No. 3 and honored to be named among such excellent & beautiful castle hotels who aspire to, and deliver, the most excellent service, amenties & atmosphere in the world." (from booking.com)
2)  Avigliana's Lakes & Saint Michael's Abbey, Val Susa (Turin)
Not far from Turin, it is possible to find an amazing landscape with lakes, hills and the Alps on the background, the whole dominated by the majestic Saint Michael's Abbey. We offer you two different b&bs to spend a few days in, while visiting this area:
"Le Maddalene B&B" and "Il giardino delle farfalle"
3) Forte di Fenestrelle, Val Susa (Turin)

"Fenestrelle Fort is a fortress overlooking Fenestrelle (Piedmont, northernItaly). It is the biggest alpine fortification in Europe, having a surface area of 1,300,000 m². The fortress was built by Savoybetween 1728 and 1850 under the design of the architect Ignazio Bertola and it guards the access to Turin via theChisone valley, and stands at altitudes between 1,100 and 1,800 m. The territory was acquired in 1709 by the Duchy of Savoy (later known as the Kingdom of Sardinia) after the defeat of the French at fort Mutin" (from Wikipedia)
It's impossible to sleep inside the fort, but there are many other places nearby: you can look them up in here.
4) Fondo, Valchiusella (Turin)
Fondo is one of the cutest historical hamlets in Piedmont. At sunset the bridge, entirely made of stones, the creek, the old houses and the fall create a perfect and unforgettable atmosphere.
Unfortunately it is not easy to sleep in Fondo, but we offer you another accommodation just a few kilometres far from here: Le case di Palù, where you can relax and enjoy a beautiful view of Piedmont.
5) Regina Margherita Hut, Valsesia ( Vercelli)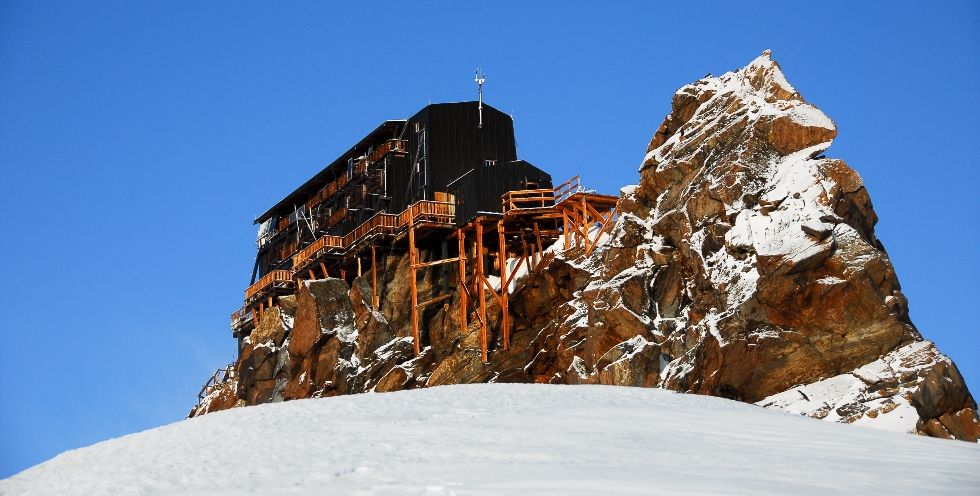 Don't you think that sleeping in the highest European refuge could be one of the most exciting experiences of your life? Regina Margherita Hut is located at 4554 m.
Is it enough for you?
6) San Rocco Monastery, Lago d'Orta (Verbania)
"Set on the shores of the picturesque Lake Orta, Hotel San Rocco is a renovated 16th-century monastery. It boasts a beautiful garden with swimming pool and views of the enchanting San Giulio Island.
The San Rocco was a convent for 150 years. The elegant restaurant features regional and international cuisine and breathtaking lake views." (from booking.com)
7) Sanctuary of Oropa, Oropa (Biella)
"Santuario di Oropa is a religious complex set in the Alps at an altitude of 1200 metres. It features an 18th-century basilica, smaller chapels and 2 beautiful courtyards. It is 15 minutes' drive from Biella.
Offering beautiful views of the surrounding mountains, Santuario di Oropa is 600 metres from the funicular up to an altitude of 1900 metres.
Oropa is part of the UNESCO World Heritage Site of Sacro Monte. It features a historic library and museum." (from Wikipedia)
8) Barbaresco, Langhe ( Cuneo)
Probably you have already heard about Barbaresco thanks to the famous wine produced in the homonym little town. Barbaresco is a stunning conglomerate of old houses surrounded by vineyards . We recommend you the enchanting Cascina delle Rose.
If all rooms are busy , don't worry. We offer you other options in Treiso, not far from Barbaresco.
..Or "Foresteria Settevie"
9) Villa Cernigliaro, Sordevolo, ( Biella)
"Villa Cernigliaro is set in a large park with views of the Elvo Valley, in the Biella countryside. The building boasts a unique Eclectic style of Piedmont, with original furnishings, works of art, and 17-th century decorations designed by the architect Chevalley. Sculpture expositions take place on site." (from booking.com)
10) Isole Borromee, Stresa (Verbania)
"The Borromean Islands  are a group of three small islands and two islets in the Italian part of Lago Maggiore, located in the western arm of the lake, between Verbania to the north and Stresa to the south. Together totalling just 50 acres (20 hectares) in area, they are a major local tourist attraction for their picturesque setting.
Their name derives from the Borromeo family, which started acquiring them in the early 16th century (Isola Madre) and still owns the majority of them (Isola Madre, Bella, San Giovanni) today." [Wiki]
If you want to spend one or two nights in this area we recommend you one of the best hotels in Piedmont, in front of those beautiful islands:
Grand Hotel des Iles Borromees.
Did you like this article? Please click on the banner below and save the url in your bookmarks bar.
Everytime you will book something on booking.com we will earn a little %, but you WON'T pay anything more.
Ti è piaciuto questo articolo? Nel caso tu abbia apprezzato, ti chiediamo di cliccare sul banner qui sotto e salvare la url che si apre, nella vostra barra dei siti preferiti. Ogni volta che prenoterete attraverso quel link, ci farete guadagnare una piccola percentuale SENZA che voi paghiate un centesimo di più.